Tomoko Sauvage 'Musique Hydromantique'
Extract
Technical
2017
3 tracks
40:00 min
LP
33 rpm / 140grm vinyl, artwork printed on reversed-board sleeve and innersleeve.
First pressing of 200 copies on clear (sold out)
First pressing of 300 copies on black (sold out)
Second pressing of 500 on black (available)
CD
Edition of 1000 copies in digipack (available)
Credits
All music by Tomoko Sauvage
Mastered and cut by Rashad Becker at D+M in Berlin
Design by Bartolomé Sanson
Cover photo – Jens Ziehe
(Temporäre Galerie in der Quartiershalle Campus Rütli – CR²)
Profile photo – Sébastien Grisey
Tracklist LP
A1 Clepsydra (10:49)
A2 Fortune Biscuit (08:37)
B1 Calligraphy (20:34)
Tracklist CD
1. Clepsydra (10:49)
2. Fortune Biscuit (08:37)
3. Calligraphy (20:34)
Order / Wholesale
— Order from our STORE
— Digital via BANDCAMP

— Distribution via :
BOOMKAT (UK/EU/ROW)
FORCED EXPOSURE (USA)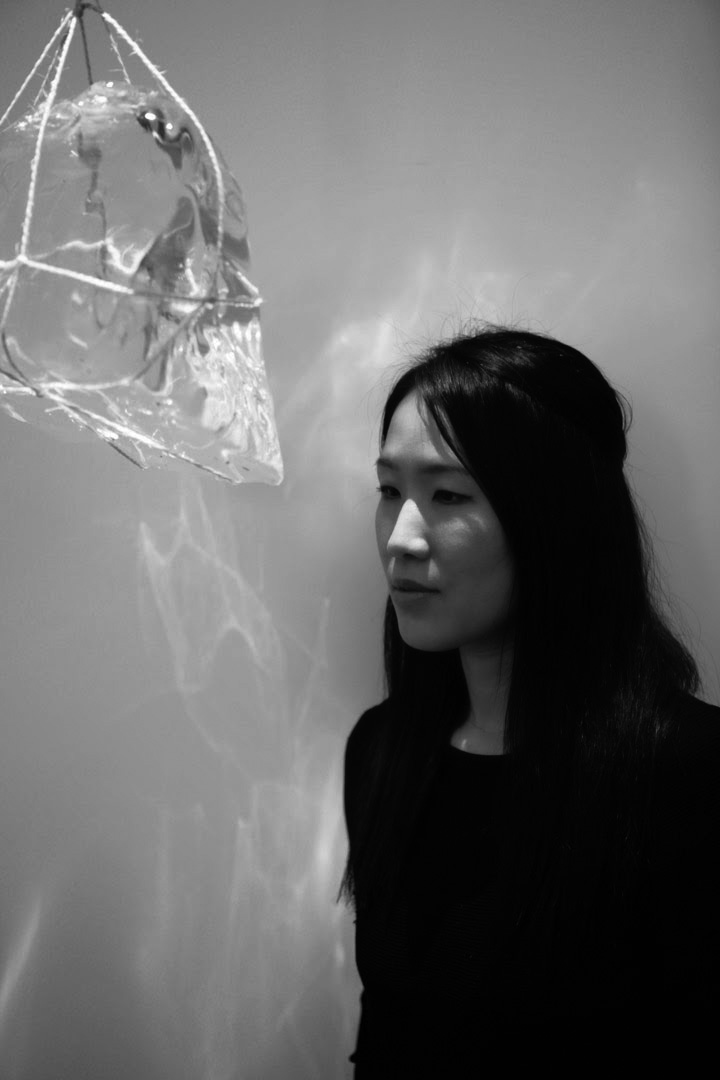 About
Musique Hydromantique is the second solo album by Tomoko Sauvage archiving many years of her performance-based practice on the waterbowls – the natural synthesizer of her invention, composed with porcelain bowls filled with water and amplified via hydrophones (underwater microphones). While her first album Ombrophilia (released on and/OAR in 2009) was studio-recorded /composed work, Musique Hydromantique is about experimentation and improvisation with the environment – acoustics affected by the architecture, temperature, humidity and the human presence.
For more than ten years, Sauvage has been investigating the sound and visual properties of water in different states, as well as those of ceramics, combined with electronics. Water drops, waves and bubbles are some of the elements she has been playing with to generate the fluid timbre. Since around 2010, hydrophonic feedback has been an obsession for the musician – an acoustic phenomenon that requires fine tuning depending on the amount of water, a subtle volume control and interaction with the acoustic space.
Calligraphy was recorded in a genuine echo chamber, with about 10 second reverbs, situated in a former textile factory. Like an endless exercise to draw perfect curves and forms floating in the air, the subaquatic feedback frequencies are pitch-bended with the mass of water sculpted by a hand changing its quantity. Fortune Biscuit is about the singing bubbles emitted from the pieces of 'biscuit' (porous terra-cotta). Depending on the texture of the surface, each biscuit makes different sound : insect and animal voices in a forest, motors, crying babies changing pitches and rhythms while absorbing the water… Clepsydra (meaning water clock) features Sauvage's classical technique, a random percussion with dripping water. She tunes the waterbowls by adding and removing water, making flowing glissando, to find the balance point in ever-changing tonalities.
Just as the flow of water is subject to a number of variables such as temperature and pressure, water clocks mark a time that is shifting and relative. However, slowness dominates throughout the album as a result of favoring the full resonance of the instrument, leading to a path to experiencing timelessness.
Hydromancy is a method of divination by means of water. Unpredictable bubbles and water ripples become oracles. Evaporation and acoustic space constantly play a chance operation. Through primordial materials and ritualistic yet playful gestures, Musique Hydromantique questions contemporary divination.
All the tracks are live-recorded without electronic effects or editing. They were recorded during the night or very early in the morning and the whole album is to be listened to during that period of a day.
—
LP edition of 500 copies with reverse board-printed inner and outer sleeve. Digipack CD edition of 1000 copies. Mastered by Rashad Becker at Dubplates and Mastering.
About the artist
Tomoko Sauvage, Japanese musician and artist active since mid 2000's, investigates the sculpturality of sound and improvisation in relation to the environment. Mainly known for a musical / visual research about 'natural synthesizer' of her invention, composed with diverse fluid, bowls, ceramic, light and underwater amplification, Sauvage's approach is attached to questions of alchemy, meditation and balance between hazard and mastery.
Born in Yokohama, Japan, Sauvage moved to Paris in 2003 after studying jazz piano in New York. Through listening to Alice Coltrane and Terry Riley, she became interested in Indian music and studied improvisation of Hindustani music. In 2006, she attended a concert of Aanayampatti Ganesan, a virtuoso of Jalatharangam – the traditional Carnatic music instrument with water-filled porcelain bowls. Fascinated by the simplicity of its device and sonority, Sauvage immediately started to hit China bowls with chopsticks in her kitchen. Soon her desire of immersing herself in the water engendered the idea of using an underwater microphone and led to the birth of the electro-aquatic instrument.
Under the form of performances, installations and musical compositions, her work is regularly presented in Europe, Asia and America. She has performed and exhibited at international festivals, institutions and galleries such as Roskilde Festival (Denmark), Flow Festival (Finland), Centre Pompidou Metz (France), Musée Quai Branly (France), Présences Electronique (France), Borderline Festival (Greece), Borealis Contemprary Music Festival (Norway), Museo Tamayo (Mexico), High Zero Festival (USA), Festival send+receive (Canada), Empty Gallery (Hong Kong), TÖNE festival (UK) and Grimmuseum (Germany). She has also been deeply connected to DIY art/ music scene and is more and more interested in educational projects. In 2016, her visual music project 'Green Music' started in collaboration with Francesco Cavaliere.
Reviews, Interviews (selection)
— The Wire (full stream)
— France Musique (radio)
— BBC 3 (radio)
— The Vinyl Factory (announcement)
— The Attic (announcement)
— Tiny Mix Tapes (announcement)
— Japan Times (interview)
— Japan Sound Portrait (interview)
— 11plus3 / Digital In Berlin (interview)
— White Lies (interview)
— Electronic Explorations (interview + mix)
— The Wire (review)
— Brainwashed (review)
— Tiny Mix Tapes (review)
— Boomkat (review)
— Attn Magazine (review)
— 初夏レゲ (review)
— Loop (review)
— Fluid Radio (review)
— Dommune (review)